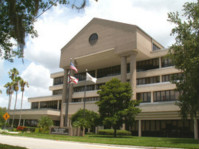 Thousands of businesses, from high technology and light manufacturing to major service providers have chosen to relocate and expand in Central Florida. According to Inc. Magazine's recent study, most companies selected the area due to affordable and high-quality living. People find living and working in Central Florida incredibly rewarding – affordable housing, a well-developed university system, fantastic recreational offerings from amusement parks and nature preserves to Florida's world famous beaches.
The County Seat of Imperial Polk County, Bartow is located just south of the I-4 corridor in Central Florida's business corridor. Located midway between Tampa and Orlando, Bartow has access to rail, road, air, ports, and mass transportation. As the governmental center of a county with more than a half million people, State and County governments are large employers in Bartow bringing thousands of county and state workers to Bartow each work day. In addition, Bartow is home to thousands of acres of former phosphate land poised for a variety of development opportunities.
When it comes to economic development, Bartow is the right place at the right time. With its own Bartow Economic Development Council, the City of Bartow is positioned to flourish in an environment that consists of a number of exciting economic development projects, including:
---
Silver Oaks Development by Silver Capital Florida
Totaling 510 acres on the West side of Hwy. 98, Silver Oaks, a planned Bartow development has potential to transform the north landscape of the area. With the City of Bartow's approval, Silver Capital Florida plans to create a residentail community with about 40 acres of commercial development and 55 acres designated for apartments or senior living. Selling a northern parcel of its site to Lakeland Regional Health, a cancer center, wellness clinic, emergency center and four medical office buildings are planned for the site.
---
Stuart Crossing
Stuart Crossing is more than 700 acres between Hwy. 98 and US 17, and includes the old homestead of the late J.K. Stuart. Commercial development will dominate the northern end, and on the southern end near the Ernest M. Smith Boulevard, residential houses will spring up. The plan calls for more than 200 acres of green space and trails, and flexible opportunities for developers.
---
Clear Springs
Located on 18,000 acres in Bartow, the Clear Springs development offers a semi-rural setting midway between Tampa and Orlando, and within 100 miles of Cape Canaveral. Clear Springs received final approval from the state Department of Community Affairs in June, 2009 on 7,606 acres of the project, clearing the way for managers to begin building in those areas. June, 2009 also saw the Florida Department of Community Affairs present Bartow with an Excellence in Planning Award for work on the Clear Springs project. Bartow was one of four government agencies to receive the annual award. Development plans are underway for:
Industrial sections with easy access to air/sea/rail/road transportation
High-tech, manufacturing, and traditional business development sites
Business Parks and Commercial areas with a modern, well-designed corporate park
University-style education campus as center for workforce training programs
Opportunities for collaborative research and development projects
Residential villages and a classic town center
A pedestrian-friendly community with an abundance of open space and recreational sites
An ideal community in which to live, learn, work and play.
Downtown Development
The City of Bartow's marketing tagline is "Our History Comes to Life." This recognition and commitment to the historic nature of the city is a testament to the pride its citizens have for their hometown. The city's Community Redevelopment Agency has invested millions of dollars in reviving its historic Main Street.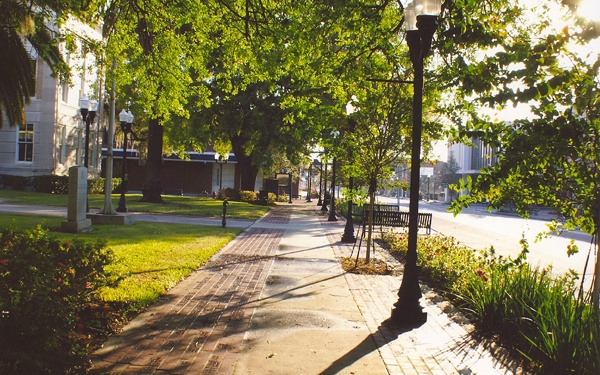 The redevelopment efforts have attracted new businesses and have begun to bring life back to the city's downtown. Many historic buildings have been, or are in the process of being, rehabilitated to house retail and office space.
Mainstreet Bartow, Inc. has a properties locator for downtown Bartow here. The Main Street Bartow community is an eclectic collection of restaurants with local and international tastes, boutiques, cafe's, antiques, salons, gift and home decor stores intermingled with professional services synonymous with a county seat. Main Street Bartow is also the home of Polk County's History Center, housed in the Historic Polk County Courthouse, which was built in 1908.
STUART BUILDING 2 OFFICE SUITES FOR LEASE HERE. The historic downtown Stuart Building is located at 160 E. Summerlin Street, Bartow. For more information, click here.
---
Polk State College/Clear Springs Advanced Technology Center
As part of the Clear Springs project, the Polk State College/Clear Springs Advanced Technology Center represents a public/private partnership between Clear Springs and Polk State College that will strengthen and grow both business and education in the region. The advanced technology center began as a planned $24 million facility based on a $12 million donation by Stan Phelps, Chairman of Clear Springs, and a $12 million match being sought through the State of Florida Facility Enhancement Challenge Grant Program.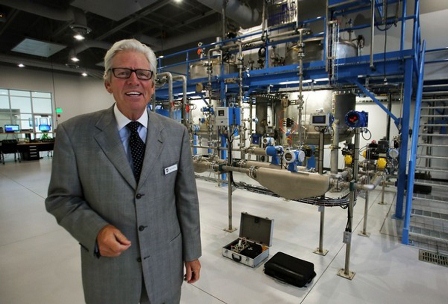 In addition to the $12 million donation, Mr. Phelps has donated 20 acres of land for the facility. Quality of workforce is one of the first questions companies ask when they consider locating or expanding a facility. Workforce training at the Advanced Technology Center addresses a critical industry need in high-wage, high-skill training and provides companies across Florida and throughout the country with a much needed highly qualified workforce pool.
Programs offered at the center enable students to identify and obtain employment in high-wage, high-skill manufacturing and industrial occupations. Training resources incorporate the latest technology training tools and educational support services. The programs lead to industry specific certifications and degrees for students preparing for those occupations. Specialized programs offered include :
Institute for Advanced Manufacturing
Supply Chain Management Institute
Information Technology Institute
Safety and Homeland Security
University Partnership Institute
General Education Programming.
Each of these industry institutes serve to educate and train post-secondary job candidates while also retraining incumbent and displaced workforce employees in new advanced tech processes relevant to each industry. The economic development benefits of these institutes see:
Decreases in unemployment and displaced workers
Increases in salary income of center-trained workers
Increases in productivity that translate into increased economic output
Infrastructure support as industries relocate to the Central Florida region
Increases in tax revenues as supply chain sectors and industries relocate to the Central Florida region
Support of anticipated distribution routes via ship, rail, and road.
---
Streamsong Resort – Golf – Spa
Mosaic's Streamsong opened to the public in the fall of 2013, and is just a little southwest of Bartow on 16,000 acres of Polk County land. Streamsong provides a refreshing contrast to the high-rise coastal hotels and themed destinations found throughout Florida. At Streamsong, you'll discover an authentic Florida experience amid pristine lakes and rolling hills. Vacationers and conference attendees enjoy not only premier resort features like world-class golf and fine dining, but also enrichment programs centered on the arts, wellness, nature and more. Streamsong offers a unique glimpse into Florida culture and history. So, whether your stay will be for business or pleasure, you'll enjoy a getaway like no other.
---
CSX Central Florida Integrated Logistics Center
Located just east of Bartow's city limits, the Central Florida Intermodeal Logistics Center (ILC) was built by Evansville Western Railway, a subsidiary of CSX, and is a centralized hub of transportation, logistics and goods distribution anchored by a new rail-based intermodal and automotive terminal. Within the terminal facility, containers are transferred from rail to truck (inbound) and truck to rail (outbound). In addition, vehicles are unloaded and positioned for transfer to retail sales locations. The other important part of the ILC concept is the planned development of distribution centers, warehouses, light manufacturing and offices in proximity to the terminal facility. The ILC:
Serves as a destination point for consumer goods transported in containers and automobiles moving to central Florida
Provides $173 million of direct and value-added economic output generated during construction
Provides, over a projected 10-year build-out, $10 billion in economic output and contribute nearly $400 million to state and local taxes
Generates an estimated 900 construction-related jobs in the first year
Creates 200 full-time positions for operations
Could create 8,500 jobs upon completion of the terminal.
---
LEGOLAND® Florida Resort – Theme Park and Water Park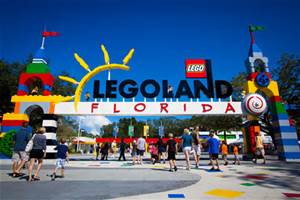 LEGOLAND® Florida Resort is a project of Merlin Entertainment Group, the world's second-largest operator of tourist attractions behind Walt Disney Co., which purchased Florida's oldest theme park, Cypress Gardens, and transformed the park into one of the world's leading tourism destinations. Located in Winter Haven, 15 miles northeast of Bartow, Legoland created 1,000 full-time jobs for the area. Other Legoland parks, one in California and three in Europe, draw 1.5 to 2 million guests per year. LEGOLAND® Florida Resort is built for kids. The 150-acre interactive theme park offers more than 50 rides, shows and attractions, restaurants, shopping, a breathtaking botanical garden and the LEGOLAND Water Park all geared to families with children ages 2 to 12. The LEGOLAND Hotel is located just steps from the park entrance and features 152 rooms. Heartlake City is a colorful new land based on the LEGO® Friends toy line.
---
Florida Polytechnic University
Florida Polytechnic University's campus alongside Interstate 4 has forever changed the region. Located north of Bartow, the research university generates economic growth by enhancing Polk County's ability to recruit large companies. It will also create high paying jobs and a more highly-educated work force. Florida Polytechnic University commissioned the acclaimed architectural firm, Santiago Calatrava/Festina Lente Services, Inc., to design the first building for the school's new campus in Lakeland, and updated the campus master plan. FPU is Florida's first and only polytechnic.
Florida Polytechnic delivers bachelor's and master's degrees, as well as a variety of online certificate and continuing education programs. The polytechnic model emphasizes applied learning and research and intensive collaboration with economic development partners in the region. Vibrant student life and challenging multi-disciplinary programs in fields such as information technology, engineering, business and education provide a distinctive educational experience at the heart of Florida's "High Tech Corridor."