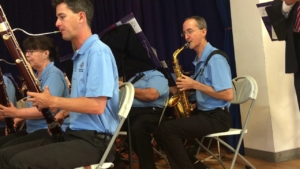 Bartow Adult Concert Band
Donates To Hard Hit
School in Panhandle
The Bartow Adult Concert Band (BACB), operating as a community service organization under the Greater Bartow Chamber Foundation, has made a donation in the amount of $2,000 to Bay High School Band in Panama City.
BACB band members associated with Florida Music Educators and the Florida Bandmasters Associations, became aware of the need and related that Bay had suffered tremendous losses of school-owned band equipment and losses to the school's music library as a consequence of the devastating effects from Hurricane Michael, last fall.
"Loss of school instruments, equipment, and music libraries that had literally been washed or blown away during the hurricane was severely impacting the ability to maintain a viable band program at Bay High School," Len Jordan, BACB steering committee member, said.
"Also, students who wanted to participate in band were having problems paying the band's normal fees.  The ability of the local band boosters was severely impacted. They were literally asking current or retired music educators from around the state, (which obviously includes BACB members), if they had 'extras' of anything that they could share – such as retired, but serviceable instruments, percussion equipment, duplicates of music, stands, and so forth."
The BACB steering committee decided to use funds that have been donated to BACB by concert goers to help. "This is in keeping with BACB's philosophy and is so stated in each of our concert programs," Jordan said.
The BACB made arrangements with a music store vendor in Panama City that services Bay High School to purchase some new instruments and equipment.  This way, Jordan noted, the donation was not only benefitting that music program, but also helping the local economy that was severely impacted by Michael.
"The Bay High School Band Boosters are also trying to match our donation and we would encourage others to do so as well," Jordan continued. "If there are those who want to help, we can facilitate that.  If they would like to make a contribution to Bartow Adult Concert Band and designate that the monies be directed to Bay High School, we would be delighted to honor that designation."
If you would be interested in donating to match the funds given by the Bartow Adult Concert Band to the Bay High School Band program, contact Jordan at 863-512-2219 or email him: ljordan@madridengineering.com