Bloomin' Bike Ride Is March 7
Main Street Bartow, Inc.
Bartow Cycling Events
Bloomin Bike Ride – Bartow, FL
March 7, 2020 – 8:00 a.m.
Main Street Bartow, Inc. and Bartow Cycling Events are gearing up for the Bloomin' Bike Ride on March 7, 2020.
The largest organized road tour in Polk County, this is an on-road cycling tour along the scenic back roads of southern Polk County, featuring a 65- and 35-mile road tour and a 17-mile Family Fun Ride.
Roads featuring gently rolling hills take cyclists across the Peace River Basin through expansive citrus groves and around the old Florida backwoods, with fully-stocked rest stops and friendly volunteers. A Sheriff's Office deputy will escort.
Following the ride, lunch will be provided by some of Bartow's finest restaurants.
Participating cyclists have the chance to be the featured poster cyclist for next year's ride, with the winner being drawn from the day's registrations. This year's poster art includes avid cyclist, Jeanette Crowley, who was photographed last year for a logo designed by LillyCat Design Studio. Crowley's photo became the ride logo on all printed media and the ride shirt for 2020.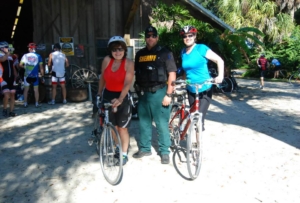 Main Street Bartow, Inc. and Bartow Cycling Events won a Merit Award for an Outstanding Florida Main Street Fundraising Development Effort presented at the Florida Main Street Secretary of State Awards Dinner in August, 2017 for Bartow's Bloomin' Bike Ride and Tour de Tow cycling events.
Bartow Cycling Events' POWER PEDALERS program gives bicycles to kids. Thanks to Walmart and Heartland for Children for helping make this part of the day successful. So far, more than 125 bikes have been given to kids who need them.
The staging area will be on Ft. Blount Park & Main Street. Parking is behind the Sun Trust parking lot across from the park. Registration opens at 7:00 and the ride begins with a special presentation at 7:50 of new bikes to our POWER PEDDLERS. The ride takes off at 8:00 a.m.
Registration forms can be found at Bartow Cycling Events on Facebook or you can request a registration form by emailing Lillycat36@aol.com or you may register the day of the ride.
For more information, please contact, Trish Pfeiffer, Ride Director, at 863-640-1024 or email Lillycat36@aol.com.