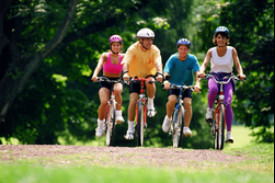 The Bartow area is also a favorite for those who enjoy bicycling. Miles of roadways with a variety of terrain make Bartow an ideal place to enjoy the great outdoors. The Fort Fraser Trail is more than seven miles of paved trail on an old railroad corridor offering a variety of activities, such as biking, walking, and skating, and is wheelchair accessible.

Bartow's Tour de Tow is a September cycling event designed for all skill levels, with rest stops stocked with plenty of fluids, cookies and fruit. The tour takes place across the Peace River Basin through expansive citrus groves, around beautiful Lake Buffum, and continues through gently rolling hills and back woods roads surrounding Bartow.

In March, the Bloomin' Bike Ride takes place in conjunction with Bartow's Bloomin' Arts Festival. Don't miss this fun ride!