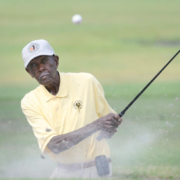 2023 HERBERT DIXON CELEBRITY GOLF TOURNAMENT
Only once in 100 years or maybe 103 years, do the stars align, and they are due to tee off during the 2023 Herbert Dixon Charity Golf Tournament, sponsored by the Bartow Deacons and Stewards Alliance, Inc.
The tournament is named for a member of two golfing Hall of Fames, Herbert Dixon, who turned 103 in 2022, and an athlete who still plays golf as much as he can.
"He's an inspiration to all of us," said Chris Banks, golf pro of the Bartow Golf Course, where Dixon first learned the game as a caddy. Although he wasn't allowed to play on the course because of his color, he served as caddy and quickly realized he loved the game. He made a spot behind the caddy shack where he hit balls and learned to play by watching others. Later, he was allowed to play on the course on Mondays, and improved his game. People began to notice his skills.
Dixon began to play in local African American tournaments, and one of his fondest memories was at his debut at a nationally recognized tournament. Crowd favorite Charlie Sifford, who had won the tournament five years in a row, and who was dressed in the latest golfing attire, took one look at Dixon (who wore the best he had at the time), and Dixon could tell he didn't think much of him. By the end of the day, Sifford had gained a new respect for the rookie – Dixon had won the 1951 National Negro Open.
Dixon is inducted into the National Black Golf Hall of Fame (1998); and the African American Golfers Hall of Fame (2012). And while his physical age has continued to climb, his golf score hasn't. He still shoots close to the high 60s and low 70s he achieved as a young man.
THE STARS FOR EDUCATION
Athletes from various sports are lining up to become part of Dixon's 103rd Celebration Year, and signing up to play and raise money for EDUCATION. That's what the Herbert Dixon Golf Tournament is all about. For many years, Dixon has led the way to raise money for scholarships for deserving and under financed students, so that they may attend college. More than $65,000 in college scholarships have been given away, due to the tournament. He also has played in the Florida Sheriffs Youth Villa Golf Tournament (which helps kids in distress) since it began more than 50 years ago. "There is great satisfaction to help a worthy goal," Dixon said.
2023 HERBERT DIXON CELEBRITY GOLF TOURNAMENT
WHEN: March 25, 2023
WHERE: Bartow Golf Course
FORMAT: 4 Man Scramble
TEE-OFF: 8:30 a.m.