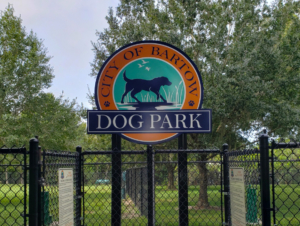 You're getting off work finally and it's been a very ruff day. Paws what you are doing and read this!
Here's something fun you can do in Bartow – take your pup to the Dog Park!
You precious fur baby will be so happy to romp and even bark up the right tree at Bartow's Dog Park at Mary Holland Park.
And, the Dog Park signage is up! If you haven't been to see the new Bartow Dog Park, take a few minutes to run by and experience one of Bartow's newest amenities.
The City did a marvelous job in creating a natural and beautiful place for our furry friends to run. You will especially liked the benches and the fire hydrants; and the park has a very easy access and safe environment for your babies, no matter how large or how small.
Catherine Vorrasi, Bartow Leisure Services Director, said that due to the heavy rains we have been experiencing, the Mary Holland Park gate may be closed  to automobiles; however, the dog park will remain open and is within easy walking distance from the park entrance.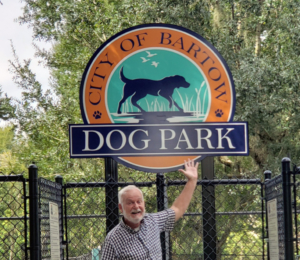 The Bartow Chamber would like to thank Bartow Leisure Services for the opportunity to create the design for the new signage.