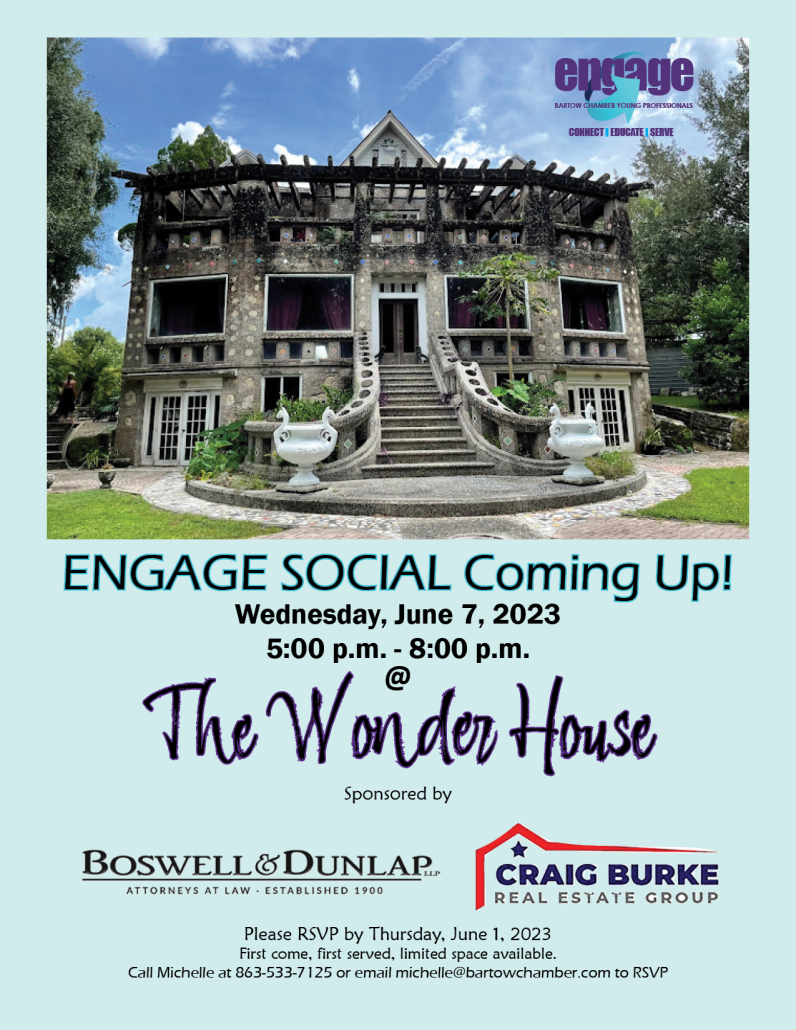 ENGAGE Social at The Wonder House – all young professionals invited!
Seating is limited! REGISTER HERE!
The Greater Bartow Chamber of Commerce announces that ENGAGE YOUNG PROFESSIONALS will present a social inviting all young professionals to attend, ages 21-42.
The Engage Social will take place on Wednesday, June 7, 2023, from 5:00 p.m. to 8:00 p.m. at The Wonder House, 1075 E. Mann Rd., Bartow, FL 33830.
All young professionals are invited to take part in this FREE social event, where you can learn more about the Greater Bartow Chamber of Commerce's ENGAGE YOUNG PROFESSIONALS PROGRAM!
Seating is limited, so register online today. Pre-registration is required. HORS d'OEUVRES provided by Chef Krislin Kreis, proprietor of The Wonder House. You don't have to be a member of ENGAGE YOUNG PROFESSIONALS to sign up for this event; however it is restricted to ages 21-42. Registration ends June 1, 2023.
PREREGISTRATION IS REQUIRED.
About Engage . . .
All Chamber members, 21-42 years of age, are invited to join ENGAGE YOUNG PROFESSIONALS.