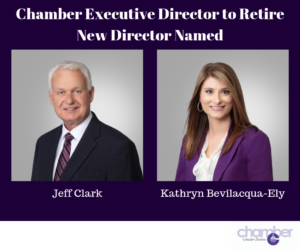 Greater Bartow Chamber of Commerce Executive Director Jeff Clark announced his retirement Tuesday, August 20, at the Chamber's August Board of Directors meeting. Clark has served in his position for 17 years and will retire at the end of 2019.
 At the same meeting, the Chamber Board also named Kathryn Bevilacqua-Ely, the Chamber's current Membership Services Director, as Clark's replacement. 
Prior to joining the Chamber in 2002, Clark, a life-long resident of Bartow, worked at Bartow Memorial Hospital as Marketing Public Affairs Director for 10 years. He was also a founding partner of CNP Marketing Agency in Winter Haven in the early 90s. He began his career as a graphic artist at O'Doski Advertising, a local advertising agency, in 1977 later becoming a partner in the firm. 
"Jeff has given so much to Bartow," said Phil Minden, Chamber President. "His leadership skills, combined with his knowledge of the community, has made Bartow a better place. When I came to Bartow as the new CEO of Bartow Regional Medical Center, I was told that if you want to know Bartow, talk to Jeff Clark."
Highlights of Clark's accomplishments at the Chamber include:
Working with Bartow City Manager George Long and Bartow Community Healthcare Foundation Executive Director Brian Hinton to form the Bartow Economic Development Council, Inc.;
Partnering with Polk State College to provide a Professional Development Academy that advances career potential;
Revamping the Leadership Bartow program;
Initiating the Chamber's Engage Chamber Young Professional group to support career and community interests of emerging leaders;
Partnering with Main Street Bartow to expand and promote new events and activities in the downtown area;
Implementing recent forward-looking strategies to deepen the Chamber brand and deliver added value to its membership.   
 "I have known, and had the privilege of working with Jeff for almost 40 years," said Brian Hinton, Chamber Treasurer. "He has not only provided strong leadership to the Chamber, but leaves it in a strong position. Many Chambers are focused primarily on economic development: the creation of wealth from which community benefits result. Community development is a process for making a community a great place to live and work by supporting quality of life initiatives. Although they reinforce each other, they are not the same. One of Jeff's strengths has been his ability to excel at both." 
"When I hired Kathryn in January of 2018, I told my Board that I was looking for someone that could eventually take my place," Clark said. "I had met Kathryn when she enrolled in the Chamber's Leadership Bartow program, and believed she would make a great Chamber executive. It wasn't long after she was hired that I knew I had made the right choice." Bevilacqua-Ely will begin her new position as Executive Director on January 1, 2020. 
Bevilacqua-Ely is a life-long resident of Polk County and a graduate of the University of South Florida. Prior to working with the Chamber, Bevilacqua-Ely was a political Campaign Manager, and an Account Executive at Lakeland's MADE Brands. She has been active in the community through organizations such as the Early Learning Coalition of Polk County, Lakeland Volunteers in Medicine, and Polk State College to name a few. She is a graduate of Leadership Bartow Class XVI and Leadership Polk Class XI. She also spearheaded the creation of the ENGAGE Serves program in Bartow, which provides young professionals education on Board Service. 
During her time at the Chamber, she has worked to cultivate strong relationships with members and expand the services offered. A website redesign and software update have increased opportunities to Chamber members. She has also developed new offerings such as Leadercast Women Central Florida, Shop Small Saturday and the Chamber Member Connector Drive. 
"I'm excited to take on this new role with the Chamber that has played a big part in growing my career through its networking and programs. I am looking forward to continuing these offerings and working with our current and future leaders. Bartow is a very special community and I'm honored to be a part of it. I look forward to the future of the Chamber, but I also know that I have large shoes to fill. Jeff has created a strong foundation for the Chamber on which to build," Bevilacqua-Ely said. 
"I could not be more excited about the Chamber's future," Clark said. "With a new generation of business and community leaders emerging, I think the best way for the Chamber to move forward is to have a leader representative of the change," Clark said. "For myself, it's the right time for the right reasons. I think that as you get older, your priorities change, and so should your life. For me, that means stepping out of the spotlight and turning the next page. I have enjoyed a supportive Board, a great staff and amazing community volunteers. It's all made for an incredible opportunity to serve my hometown. Creating relationships through working with the community has been the ultimate reward," Clark said.