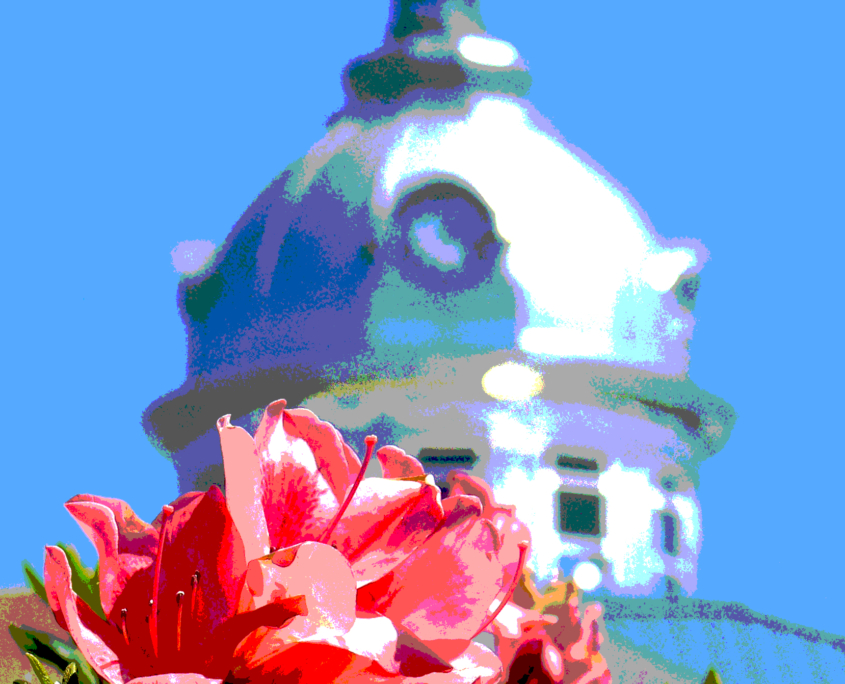 February through mid-March Happenings at the History Center
Journey into Polk history this month at the Polk County History Center. The following programs and events are open to the public and free of charge:
Mid February to Mid March:
Feb. 15, 11 a.m. – Architectural Tour

Join us for an architectural tour of the History Center and learn about neoclassical architecture, the construction of the building and the stories behind the iconic Old Polk County Courthouse. This month's tour includes special emphasis on how items needed for construction were lifted from the ground floor to the ceiling. The architectural tour is on the third Saturday of each month at 11 a.m.
Feb. 18, 12:15 to 1 p.m. – Democratic Dialogue Speaker Series: Census: Fact vs Fiction
The second installment in our new monthly Democratic Dialogue Speaker Series will focus on the U.S. Census. It's almost time for the U.S. Census again. But what exactly does that mean and why is the Census important and nothing to fear? Chanda Bennett of the Polk County Board of County Commissioners and Kim Long from Polk Vision, who are members of the Polk County Complete Count Census Committee, will lead us in discussion.
Feb. 27, 5:30 to 6:30p.m. – Book Banter: Politics at Play
Do you love to babble about books, or feel the need to chatter about chapters? Here at the Polk County History Center, we have the solution: join our monthly book club. Each month during the 2020 election year, we will read books about major topics in our country's history and current events.
Join us this February as we talk about, "Civil Disobedience," by Henry David Thoreau. First published in 1849, Civil Disobedience is a call for every citizen to value his conscience above his government. Within this 19th century essay, Thoreau argues that individuals should not allow their government to control their minds, otherwise they risk becoming agents of injustice.
Feb. 29, 10 a.m. – Genealogy Speaker Series – "Digital Resources for History and Genealogy," by LuAnn Mims, Lakeland Public Library
Join us in the 1926 Courtroom for the monthly Genealogy Speaker Series. This month will feature LuAnn Mims, the special collections librarian at the Lakeland Public Library, who will talk about using digital resources in your research. Call (863) 534-4604 if you have any questions and to reserve your seat.
March's Family Program – Curators of Curiosity – All Month
March is here and we are so hoppy the warm weather is returning that we wanted to jump for joy – or maybe that's just our origami frogs! Come make an origami frog of your own at Curators of Curiosity.  History Time Tots, a story and activity time, designed for ages five and under, will take place on Saturday, March 7, at 10 a.m. and Tuesday, March 10, at 10 a.m. March is Women's History Month so to celebrate girl power, we will be reading Rosie Revere, Engineer by Andrea Beaty, illustrated by David Roberts.
March 7, 10 a.m. – 4 p.m. – Bloomin' Arts Festival Quilt Show
Quilts representative of all skills levels will be on display in the 1926 Courtroom as part of the 49th annual Bloomin' Arts Festival in downtown Bartow. The History Center's Medallion Quilt will be on display in the Rotunda. The quilt was a gift of Keightley Stringfellow, with hand quilting completed by Melody Clyatt. The medallion rosette uses more than 10,800 squares to recreate the tile decoration in the rotunda of the History Center. Though the Quilt Show is non-juried, visitors are asked to vote for their favorite quilt which receives a "People's Choice Award."
March 7, 11 a.m. – Oak Hill Cemetery Tour

Oak Hill Cemetery is a historic cemetery in Bartow which was added to the U.S. National Register of Historic Places in 2003. The early gravesites date back to 1860, and people interred there include Confederate General Evander M. Law, County Seat (or downtown Bartow) land donor Jacob Summerlin, and Polk County pioneer settlers like the Blount, Parker, and Varn families. The tour starts at the History Center with a short walk of approximately one mile to include historic landmarks along the route to the cemetery. The cemetery ground is uneven and visitors are advised to wear appropriate footwear. The cemetery tour is offered at 11 a.m. the first Saturday of every month, November through April.
March 17, 12:15-1 p.m. – Democratic Dialogue Speaker Series: The History of Women's Suffrage

To celebrate Women's History Month and the Centennial of the 19th Amendment, join us for a presentation on the history of women's suffrage, offered by Dr. Sharon Kay Masters from the League of Women Voters.
New Temporary Exhibit – The 19th Amendment at 100 Years: A Milestone of  Democracy for Women's Suffrage
The year 2020 marks the 100th anniversary of the passage of the Nineteenth Amendment, guaranteeing and protecting women's constitutional right to vote. This historic commemoration offers an opportunity to celebrate a milestone of democracy and to explore its relevance to issues of equal rights today. As part of a yearlong statewide initiative, the Polk County History Center will host an exhibit entitled, The 19th Amendment at 100 Years:  A Milestone of Democracy for Women's Suffrage. The exhibit will chronicle the women's suffrage movement on the national and local levels. Visitors can learn about the women who led the charge for women's voting rights, including national leaders Susan B. Anthony and Elizabeth Cady Stanton, plus some of Florida's suffrage champions, including Dr. Mary Jewett, Mary McLeod Bethune, and Marian Horwitz, Florida's first female mayor.
Suffragists were often arrested, imprisoned, and ostracized, but were undeterred from achieving equal rights under the law. The exhibit is part of a countywide initiative to celebrate the centennial of the passage of the 19th Amendment.
The Polk County History Center is open 9 a.m. to 5 p.m. Tuesday through Saturday at 100 E. Main St. in Bartow. Visit www.polkhistorycenter.org or call (863) 534-4386 for more information on exhibits and programming. All programs and events are free and open to the public.