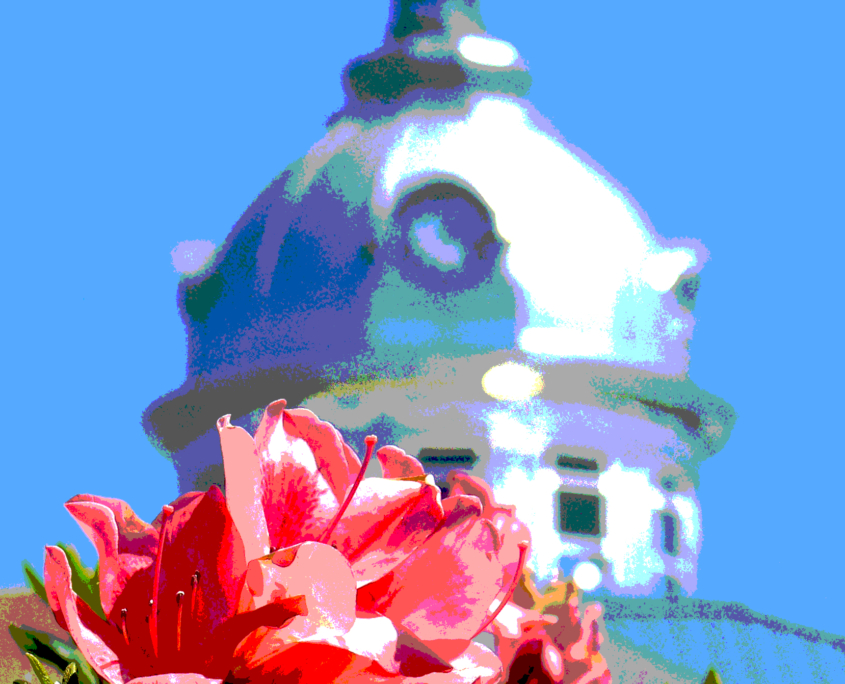 March Happenings at the History Center
 Journey into Polk history this month at the Polk County History Center. The following programs and events are open to the public and free of charge:
March's Family Program – Curators of Curiosity – All Month
March is here and we are so happy the warm weather is returning that we wanted to jump for joy – or maybe that's just our origami frogs. Come make an origami frog of your own at Curators of Curiosity.
History Time Tots, a story and activity time designed for ages 5 and under, will take place at 10 a.m. March 7 and 10. March is Women's History Month. To celebrate the power of women, we will read, "Rosie Revere, Engineer," by Andrea Beaty, illustrated by David Roberts.
March 7, 10 a.m. – 4 p.m. – Bloomin' Arts Festival Quilt Show
Quilts representative of all skill levels will be on display in the 1926 Courtroom as part of the 49th annual Bloomin' Arts Festival in downtown Bartow. The History Center's Medallion Quilt will be on display in the Rotunda. The quilt was a gift of Keightley Stringfellow, with hand quilting completed by Melody Clyatt. The medallion rosette uses more than 10,800 squares to recreate the tile decoration in the rotunda of the History Center. Though the Quilt Show is non-juried, visitors are asked to vote for their favorite quilt which receives a People's Choice Award.
March 7, 11 a.m. – Oak Hill Cemetery Tour

Oak Hill Cemetery is a historic cemetery in Bartow, which was added to the U.S. National Register of Historic Places in 2003. The early gravesites date to 1860, and people interred there include Confederate Gen. Evander M. Law, Bartow land donor Jacob Summerlin, and Polk County pioneer settlers like the Blount, Parker and Varn families. The tour starts at the History Center, with a short walk of about one mile, that includes historic landmarks along the route to the cemetery. The cemetery ground is uneven and visitors are advised to wear appropriate footwear. The cemetery tour is offered at 11 a.m. the first Saturday of every month, November through April.
March 17, 12:15-1 p.m. – Democratic Dialogue Speaker Series: The History of Women's Suffrage

To celebrate Women's History Month and the 100th anniversary of the 19th Amendment, join us for a presentation on the history of women's suffrage, offered by Dr. Sharon Kay Masters from the League of Women Voters of Polk County.
March 21, 11 a.m. – Architectural Tour

Join us for an architectural tour of the History Center and learn about neoclassical architecture, the construction of the building and the stories behind the iconic Old Polk County Courthouse. This month's tour includes special emphasis on early security measures in the courthouse.  The architectural tour is at 11 a.m. the third Saturday of each month.
March 26, 5:30- 6:30 p.m. – Book Banter: Politics at Play
Do you love to babble about books, or feel the need to chatter about chapters? Here at the Polk County History Center, we have the solution: join our monthly book club. Each month during the 2020 election year, we will read books about major topics in our country's history and current events.
Join us this March as we talk about the book, "We Should All Be Feminists," by Chimamanda Ngozi Adichie. Adapted from her popular TEDx Talk of the same name, "We Should All Be Feminists" offers readers a unique definition of feminism for the modern era that is based on inclusion and awareness. Short and compelling, this book is perfect for a quick Women's History Month read.
March 28, 10 a.m. – Genealogy Speaker Series: "The Tombstone Just Said, "Wife of…"
Join us in the 1926 Courtroom for the monthly Genealogy Speaker Series. Jack Butler will talk about finding the women in your family history. The title derives from women's grave markers that often only include ,"Wife of…." without benefit of the wife's first and/or maiden name. Women make up half of our genealogy, but because of practices employed for some headstone inscriptions, it is often a hidden half. This lecture addresses a wide variety of records that often contain information about our female ancestors, along with how to find them.
Butler is the primary researcher for Southern Heir Ways Genealogy. He is an experienced genealogist, lecturer and author who has helped people track their ancestors for more than a decade. As a 6th generation Floridian, with strong ties to neighboring states, he has researched extensively throughout the South, as well as New England, Canada, and the United Kingdom. Butler is the immediate past president of both the Florida Chapter of the Association of Professional Genealogists, and the Florida State Genealogical Society. If you have any questions and to reserve your seat, call (863) 534-4604.
March 25, 2:30 p.m. – The Polk County Historical Commission and Marker Committee will meet in the Board of County Commissioners Boardroom at the County Administration Building, 330 West Church St., Bartow.  The meetings are open to the public.
The Polk County History Center is open 9 a.m. to 5 p.m. Tuesday through Saturday at 100 E. Main St. in Bartow. Visit www.polkhistorycenter.org or call (863) 534-4386 for more information on exhibits and programming. All programs and events are free and open to the public.