Summerlin Academy 2021 Campus Renovation and Program Enrichment Initiative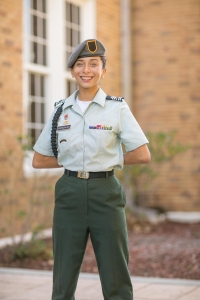 Summerlin Military Academy, a 501 (c) (3) Non-Profit and Polk County Public School, has embarked upon an initiative to renovate its existing campus facilities.
The following is a list of items that are urgently in need of immediate attention, and an estimate of their likely cost:
Cleaning campus monuments (Eagle, Wounded Soldier Memorial): $5,000.00
Outdoor High Adventure Fitness Course: $8,000.00
Classroom and Parade Field Signage: $1,000.00
With regard to Summerlin Academy's desired program enrichment, your sponsorship of any or all of the following items would be greatly appreciated:
Annual Varsity Jackets for Senior cadets who have excelled in Drill, as a Scholar Athlete, Rifle Marksmanship, Archery and Equestrian: $2,000.00
Ceremonial Uniforms for our Regimental Commander, Executive Officer, Cadet Staff, and Battalion Commanders: $10,000.00
A single Outdoor Storage Container: $3,000.00
Drum line equipment: 2 Bass drums, 2 snare drums, straps and harnesses, bugle, sticks and mallets: $1,500.00
Drill and Ceremonial Equipment (Rifles, Drill Bar, Saber, Color Guard belts, harnesses, gloves): $5,033.00
Sponsor for our Annual Formal Dining-Out/Military Ball: $5,000.00
Indoor Fitness Facility: $10,000.00
Science, Technology, Engineering, and Math (STEM) facility: $20,000.00
Your monetary or in-kind donation will support our efforts in continuing the legacy of excellence that Summerlin Academy has been known for from its very inception as the Summerlin Institute in 1887.
Feel free to view the link and the informative video of our Academy provided here: https://www.youtube.com/watch?v=qXT9AmSYblE&t=5s.
Summerlin Academy's website address is https://bhs.polkschoolsfl.com/summerlinacademy/.
Respectfully thanking you in advance,
COL George S. Pettigrew (RET)
Senior Army Instructor
Summerlin Military Academy