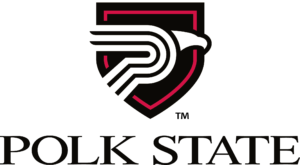 GRANT FUNDED
NO COST TO
STUDENT
Sessions:
October 12th – October 23rd, 2020
When:
Monday – Friday 8 a.m. – 5 p.m.
Location:
Polk State College  Lakeland Campus 3425 Winter Lake Rd Lakeland, FL  33803 LTB 2279
Contact:
trainingsolutions@polk.edu  863.669.2326 CERTIFIED LOGISTICS TECHNICIAN and  CERTIFIED LOGISTICS ASSOCIATE 2 Week course – 80 hours
The purpose of the Certified Logistics Technician (CLT) ® certification program is to recognize through certification, individuals who demonstrate mastery of the core competencies of material handling at the front-line (entry-level to front-line supervisor) through successful completion of the certification assessments.  The goal of the CLT certification program is to prepare individuals for front-line material handling and supply chain logistics jobs in fulfillment centers, warehouses, distribution centers, and factories. This training program includes a stackable certification for employees with the 21st Century, in-demand skills needed for long-term career paths in over 5.8 million supply chain logistics jobs.
The CLT program consists of two parts: Foundational-Level Certified Logistics Associate (CLA) ® Certificate  Mid-Level Technical CLT Certification (CLT)
The CLT & CLA Articulation to:  CGS 1100 Business Applications for Computers TRA 1154 Intro to Supply Chain TRA 2010 Transportation and Distribution