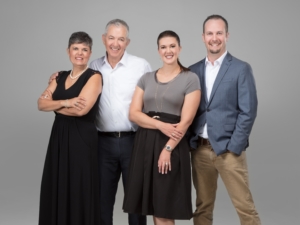 What do you get when you cross a plumber with an insurance underwriter? One might never fathom the answer. However, thirty-three years ago, that's exactly where Spath Jewelers got its start.
In 1986 Gene and Tina Spath decided to take a giant leap of faith and start a small town Jewelry Store. According to Tina, they didn't know much about jewelry, but what they did know was that God is good, how to work hard and take care of people. Since then, what has formed is a business that blurs the lines between family, friends, customers and employees.
Like every good story it all starts with a journ
ey. To give you insight on why Spath Jewelers treats its customers like family, you have to start at the beginning.
In 1965 Cuba was in unrest. The government was in a turbulent sea of military and political takeover. Tina's parents uprooted their daughter with a final destination of America. The laws in the United States were such at the time that the only way they could come into the country was to send Tina first, who could hopefully "claim" her parents later. "I came by myself to a foreign country, to a foreign people, without knowing the language," Tina said. She was only ten years old at the time.
Gene Spath,on the other hand, grew up in Chicago, Illinois, in a family of six. Starting at just five years old, Gene became a milk boy. "I would wake up at 3:00 a.m.in the morning to deliver milk bottles to the neighborhood, and then go to school after that," Gene said.  Looking back he explained "I was so young that I couldn't even read the bottles on the truck, I just knew them by the color: white or chocolate." He even remembers taking naps on the milk truck because h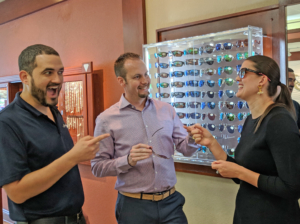 e would be exhausted from such a long day. After high school, Gene worked in the trades as a plumber. Little did Gene know how this type of work ethic and perseverance would eventually pay off.
Fast forward years later, and in 1986 Spath Jewelers opened its doors. The Spath family however, looked much different with the addition of three children running around; Brian, Christopher, and Emily. "Our children grew up in the store. We had nothing to start, but we had each other.," Tina said.
Gene and Tina had sold everything they had in Illinois to start Spath Jewelers in Bartow while living in Ft. Meade. "We didn't have a house to stay in, so my cousin Juan Carlos offered us to live with him. We would sleep, all six of us, in one room and drive to Bartow everyday to the store. With the jewelry store still in the making, Gene worked two jobs: jewelry store during the day, and the IMC phosphate mine at night. They didn't know if it would work, but they knew they just had to keep trying.
When walking into Spath Jewelers, one can't help but feel as if you're being welcomed into a home. This is a home however, where you are greeted by knowledgeable staff, and are surrounded by sparkling diamonds. Every one of the staff members at Spath Jewelers is sent through an accreditation jewelry program. "What makes us different is our people and the experience," said Emily. "We try very hard to take care of everything for you."
Spath Jewelers also has four jewelers on staff and specialize in custom design. "We have built some pretty mind-blowing things over the years. Custom design is very difficult, but I love the challenge it gives you," Emily said. "Jewelry represents precious moments in people lives, we're honored that people allow Spath Jewelers to be a part of their lives," she added. Emily also explained that the Spaths travel to Antwerp, Belgium, the diamond capital of the world, to broker diamonds for the store.
Another phase in the Spath journey is how in November of 2002, Spath Jewelers took another leap of faith and opened an additional location in Valrico. Son Brian, has assumed operations for Spath Jeweler's Valrico store for the past 15 years. Brian is a graduate gemologist, which is the highest degree one can achieve in the jewelry industry. Bother Christopher Spath pursued a law degree and worked at the State Attorney Office in Polk county before transferring over to personal injury in the private practice world.
Emily married Matthew Clark in 2009. Growing up in the Pacific Northwest, Matt had endless trails to hike, waterfalls to climb and mountains to snowboard. However, what he did not see much of was the sun. After completing his first four years of college, he decided to spend his final term in the National Student Exchange program. Venturing across the country, he ended up at the University of South Florida. T
he goal was to maybe get a tan for once in his life before returning home to Oregon.
Emily said that God had different plans, and Matthew met his soulmate on an unplanned sneaky blind date. Matt now calls Bartow his home and in 2013, the couple started to assume the main operations for Spath Jewelers of Bartow. "Matt is such an amazing asset to us, he is the engine that keeps all the moving parts running," Emily said.
Faith and family are the key ingredients to the Spath journey. Emily refers to a quote from Colin Powell that says it all. "A dream doesn't become reality through magic; it takes sweat, determination and hard work."  In the Spath's case, the dream came true, and has made Spath Jewelers a staple to the Bartow and Polk County area.
Spath Jewelers is located at 1360 North Broadway Avenue, Bartow, Florida. For more information, call 863-533-9569, or visit www.spathjewelers.com. The Valrico store is located at 2523 East State Road 60. Call 813-571-5445, or visit www.spathjewelersvalrico.com.