Pets of the Week at SPCA
Preview all of the adoptable pets at spcaflorida.org/adopt. To meet or adopt a pet, please contact the SPCA Florida Adoption Center for an appointment at (863) 577-4615. Prior to adoption all pets are spayed or neutered, microchipped, up to date on vaccines and come with a month of flea and heartworm prevention.
Name: Copper
Gender: Male
Age: 1 year old
Weight: 53 pounds
Species: Dog
Breed: Black Mouth Cur/Mixed Breed- Red/Mahogany
Orphaned Since: June 2021
Adoption Fee: $100
Copper here! Let me tell you a bit about myself…besides being handsome, (of course) I am friendly, loving and have lived with children and another dog before. I have spent most of my life outside, but I would LOVE to be spoiled as an inside dog. I enjoy cuddling and I give the best. Hugs. Ever. I am working on some basic obedience training and it's going very well. My dashing smile is sure to win you over, so don't wait too long to visit. Contact SPCA Florida today and let's meet!
Name: Tez
Gender: Male
Age: 4 years old
Weight: 60 pounds
Species: Dog
Breed: Terrier, American Pit Bull/Mix- Brindle/Tan
Orphaned Since: May 2021
Adoption Fee: $100
Woofo, I'm Tez. If you think you've seen me before, you're right- this adoption thing hasn't worked out all that well for me. I was adopted and returned and adopted, and…found roaming the streets in Jacksonville. I have no idea how I got there. It just kind of happened. Anywoofs, lucky for me, the volunteers at the shelter there brought me back to SPCA Florida. I haven't let all these adventures bring me down though, I'm still a happy-go-lucky guy. And I'm still hopeful that my next home will be the one where I can stay forever. Are you my furrever home? Call SPCA Florida and let's find out!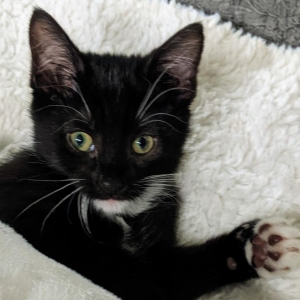 Name: Joan Jett
Gender: Female
Age: 3 months old
Weight: 1.5 pounds
Species: Cat
Breed: Domestic Shorthair/Mix- Black/White
Orphaned Since: April 2021
Adoption Fee: $100.00
Meows! I'm Joan Jett and I'm ready to be the rock star kitten of your life. Got toys? We can romp and play like there's no tomorrow. After the show is over, I'd love to cuddle my tiny furry self onto your lap and drift off to dreamland with contented purrs. I prefer to be the only fur-star in your home. That's just how I roll. If you'd like to make me center stage in your life, call SPCA Florida and ask for Joan Jett!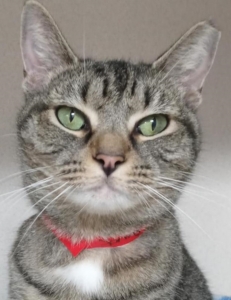 Name: Spring
Gender: Female
Age: 2 years old
Species: Cat
Breed: Domestic Shorthair/Mix- Brown
Weight: 8 pounds
Orphaned Since: March 2021
Adoption Fee: $65.00
What's your favorite season? Hint: the right answer is spring. Because it's my name- Spring! So, if you adopt me, it will be your favorite season every day. Anymeows, I love being gently petted and playing with wand toys. I'm a shy girl and would probably be more comfortable in an adult only home. My other favorite things are catnip and toona. Need I say more? I'm sure we'll get along splendidly so contact SPCA Florida to meet me!
Together, we can keep their hearts beating in 2021!