SPCA Florida Saves Van Gogh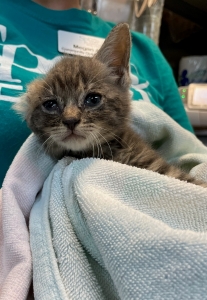 Good Samaritans investigated panicked kitten screams coming from a small bush.  As they approached, they saw a tiny 4-week-old grey tabby kitty crying for help.
The terrified look of distress in the kittens' eyes told them that something was dreadfully wrong. When they scooped up the crying bundle, their hearts nearly stopped. The helpless kitten was missing his right ear which appeared to have been recently and severely torn off.
They rushed the little one to SPCA Florida's Admissions Department to receive humane medical care and hopefully a long future.
Dr. Robyn Barton, SPCA Florida Shelter Veterinarian stated, "This kitten has endured severe trauma to the right ear. The margins of the very small remaining portion of cartilage are irregular and consistent with a tearing injury. There was some infected and compromised tissue that required debridement and removal when he arrived.  However, we see a very bright future for this kitten once he's healed."
It was only fitting to name this tiny fighter, Van Gogh! He is currently in foster care healing and growing strong. Once he is old enough to be neutered, he will be placed up for adoption. Van Gogh and SPCA Florida are grateful for the good Samaritan's loving hearts and quick actions.
SPCA Florida is asking for financial, foster, and adoption support. To help, go online at www.spcaflorida.org and donate, foster or check out our available dogs and cats.
About SPCA Florida
Founded in 1979, SPCA Florida exists to eliminate animal suffering and engage the entire community in the welfare and well-being of animals. SPCA Florida will help and heal 20,000 dogs and cats through its SPCA Florida Animal Medical Center and provide direct care for 6,500 animals through its Adoption Center this year. Ani-Meals and Food Assistance Programs, provide food and medical care for animals of homebound families and families who need supplemental food for thousands of dogs and cats each year.