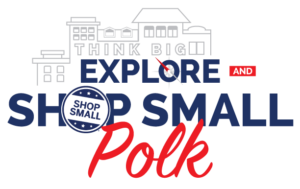 What makes a community special? What gives it a vibrancy to be unique? There could be many answers, but they would all center around the small, local businesses that help the community flourish.
Small businesses give their community its own special flavor. Not only do they provide unique options for shopping, services or dining but they also give back of their time, talents and treasures. They employ a large percentage of a city's workforce and they help keep more money within the local economy than a large corporation. This is why it is so important to support small business every day.
In 2010, Small Business Saturday was created as a way to aid many small businesses hurting from an economy in recession. Founded by American Express, Small Business Saturday was a way to support the local, small businesses that keep our communities strong every day by promoting them on the Saturday after Thanksgiving. This was a way to feed off the Black Friday momentum and encourage people to Shop Small and bring more holiday shopping to small businesses, and into local economies.
It didn't take long for our nation to take notice of the importance of the Shop Small movement. In 2011, the Senate unanimously passed a resolution in support of the day and in 2012 all 50 states participated in the movement.
The IMPACT
According to the 2017 Small Business Saturday Consumer Insight Survey commissioned by American Express, an estimated 108 million consumers reported shopping or dining at local independently-owned businesses on Small Business Saturday which generated roughly $12 billion dollars in reported spending. Statistics from the United States Small Business Administration shows that small businesses represent 99.7 percent of all businesses with paid employees in the US.
To bring those statistics closer to home, in 2017, Shop Small Lakeland was launched as a way to spread the message of the American Express movement on a local level. Through engaging activities, Shop Small Lakeland was able to collect valuable information on the impact just one day could make.
Over 400 people participated by getting shopping passports, visiting one (or more!) of the participating 44 merchants and making purchases. The estimated economic impact in just one day was as high as $40,000! Let's read that again, $40,000!
This year, Shop Small Polk is born as a collaboration between Lakeland Business Leaders and the Greater Bartow Chamber of Commerce. Both organizations felt that they were stronger by standing together. Working together, the Shop Small message would be able to reach further and make an even greater economic impact.
This one day will help promote and raise awareness for local, small businesses and encourage participants to continue to shop small all year. It's not about just one day…it's about how the community can give back to small business all year.
Kathryn Bevilacqua-Ely, Membership Services Director for the Greater Bartow Chamber of Commerce, said, "We are so excited to be partnering with Lakeland Business Leaders and Main Street Bartow to help promote Small Business Saturday in Bartow and Polk County. By shopping or doing business at a small, local business you are keeping more money in our local economy, supporting local jobs, and celebrating all the amazing places that make our community unique.
By shopping locally your purchase isn't the end, that money is reinvested into the community at a higher rate than with corporate chains. This year, we invite the community to come out on Shop Small Saturday and find a special, unique gift for your family and friends…and maybe yourself!"
"When I think about the power of our small businesses in Polk County, and what we can do together, I get excited. But when I think about the Polk County community supporting these small businesses, I am overwhelmed with gratitude that I am blessed to have a place like Polk County to call home. I believe we have a responsibility to our community to actively seek ways to improve our local economy and shopping small is one of the best actions we can take to help our economy thrive," shared Chrissanne Long, founder of the Lakeland Business Leaders.
Shopping at a Small Business on Saturday, November 24 supports not only your local economy but also the vibrancy of our community. Together we will continue to build our economies, one small business at a time. Think Local. Shop Small. Shop Polk!
How You Can Participate
Independently owned small businesses feed the local economy in many ways. Plus, they offer holiday shoppers some truly unique choices for gifts. On Saturday, November 24, save some of that Black Friday energy and burn off the last of that Thanksgiving meal by visiting Polk's wonderful local, small businesses. Visit www.ShopSmallPolk.com to find out more about the participating merchants. Here are a few tips to make the most of your Shop Small day:
Make note of the Kick Off location nearest to you.
Be sure to visit the ShopSmallPolk.com website frequently, as new merchants and sponsors are added throughout the month, and throughout the year!
RSVP to the Shop Small Polk Event on Facebook, and invite your friends and family!
Follow Shop Small Polk on Facebook and join the FB group to stay up to date, and share your love for the small businesses in Polk County.
Stop at a Kick Off location to get your shopping passport.
As you visit participating merchants, be sure to collect your stamps for purchases so you can enter to win a prize!
Find a unique gift to put under the tree and give back to your local economy.
Feel good knowing that your purchases gave back to the community you love!
Continue to Shop Small throughout the year!