Diversity Luncheon & Awards
Date: September 20, 2023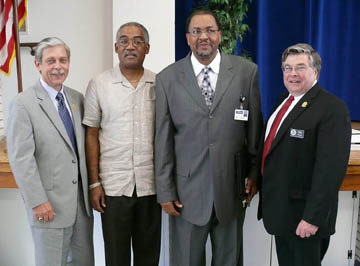 Projected Attendance: 200-300
Admission: $20.00 per ticket
Contact: Virginia Condello, 533-7125
Bartow's annual C.C. Corbett Diversity Awards are presented yearly during the Bartow Community Relations Committee's  (CRC) Diversity Luncheon on the third Wednesday in September, in celebration of Bartow's Multicultural Awareness Month.
The event begins at noon at Bartow Civic Center.
A guest speaker is chosen to give the keynote address. Awards are given to a business or organization and an individual who have shown a commitment to diversity in the City of Bartow, or in surrounding communities, through mentoring, outreach initiatives, or other activities that advance the goal of inclusion.
Tickets for the luncheon are $20 each and may be purchased from the Greater Bartow Chamber of Commerce, 510 North Broadway, one month prior to the event.
The C.C. Corbett award winners are traditionally announced by the CRC Co-Chairs.
"Before the passing of our friend and former Chairman, C.C. Corbett, it was his desire and the desire of the Community Relations Committee to recognize an individual and a business or organization that made it a priority to promote diversity in our community," Mrs. Gloria Washington, CRC Co-chair, said at the last event.
"The City of Bartow and the Community Relations Committee will continue to honor C.C.'s dedication to diversity by awarding the C.C. Corbett Diversity Awards."
Two awards are given each year: one to an individual and one to a business or organization honoring them for promoting unity within the Greater Bartow area.
NOMINATE A BUSINESS OR INDIVIDUAL HERE.
Past winners include:
2022 – Clifton Lewis and 360 Liberty Link
2019-2021 – no winners due to pandemic
2018
Carver Young and Bartow Community Healthcare Foundation, Inc.
2017
Gloria Washington and Eastside Positive Action Committee
2016
Ken Riley and Bartow Police Department
2015
Melony Bell and Church Service Center
2014
J.J. Corbett & TiAnViCa Riding Academy
2013
Joyce Thurman and Mosaic
2012
George Long and Bartow Youth Football
2011
Sharon Casey and Polk County Sheriff's Office
2010
Fred Murphy and Flanders Precisionnaire
2009
Leo Longworth and Peterson's Cleaners
2008
Larry Madrid and Fred's Southern Kitchen
2007
C.C. Corbett (Posthumously) and Board of County Commissioners: Clerk of Courts