Preview all of the adoptable pets at https://link.edgepilot.com/s/12289760/r01otesdrkCb-NU3X2LWSA?u=http://www.spcaflorida.org/. To meet or adopt a pet located at SPCA Florida, stop by the Adoption Center M-F 11am – 6pm, or Sat/Sun 11am – 5pm. Prior to adoption all pets are spayed or neutered, microchipped, up to date on vaccines and come with a month of flea and heartworm prevention. For questions, contact SPCA Florida's Adoption Center at (863) 577-4615 or adopt@spcaflorida.org.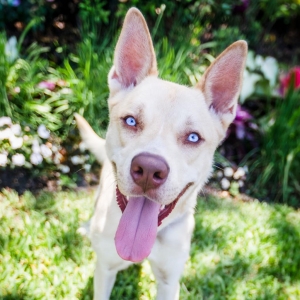 Name: Rush
Gender: Male
Age: 3 Yrs.
Weight: 59 Lbs.
Species: Dog
Breed: Siberian Husky – White
Orphaned Since:  05/04/2023
Adoption Fee:  $150
Greetings, my name's Rush! Come gaze into my baby blues and fall in love with your furever four-footed family member. I'm a full-grown, 60-pound Siberian Husky who needs to be on the move. OK, no Iditarod, 938-mile dogsled race here in the Sunshine State but members of my breed need lots of exercise. Grooming is also a must to keep me handsome. I hope you'll rush to meet me, you can even take me on a doggie date. Find out more at: https://link.edgepilot.com/s/12289760/r01otesdrkCb-NU3X2LWSA?u=http://www.spcaflorida.org/ or stop by SPCA Florida and ask for Rush. See ya soon! WOOF.
Name:  Bella
Gender: Female                               
Age: 1 Yr.
Weight: 46 Lbs.
Species: Dog
Breed: Black Mouth Cur/Boxer – Brown
Orphaned Since:  08/30/2022
Adoption Fee: $250
My name, Bella, is Italian for "beautiful" and it sums me up perfectly. I'm an all-American gorgeous girl with eyes the color of maple syrup. My light-brown fur is accented with dark brown marks over my eyes and a white bib on my chest. I'd fit in best as the only four-legged member of my human family. I'm teachable and my youthful energy makes me an ideal candidate to learn manners, especially when rewarded with treats. I must have more training and when not one-on-one with obedience lessons, I'd love to cuddle with you. Come meet me soon at SPCA Florida. Be sure to ask for Bella!
Name:  Hopscotch
Gender: Female
Age: 1 Yr.
Weight: 7 Lbs.
Species: Cat
Breed: Domestic Shorthair – Brown/Orange Torbie          
Orphaned Since: 04/05/2023
Adoption Fee:  $75
Hopscotch is a very affectionate, mellow young lady who longs for a warm forever lap to sit in. She is comfortable with other cats and loves to watch birds from a sunny cat tree on our screened patio. She's playful and likes both feather wand toys and catnip toys. Hopscotch has Feline immunodeficiency virus (FIV+) and is missing several teeth, but she is an active, loving cat and is not on any medication. Her favorite treat is rotisserie chicken. Stop by SPCA Florida and meet Hopscotch; be sure to bring the chicken!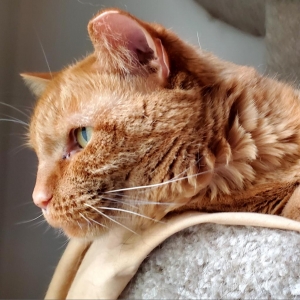 Name: Midas
Gender: Male
Age: 8 Yrs.
Weight: 9 Lbs.
Species: Cat
Breed: Domestic Shorthair – Orange       
Orphaned Since:  04/20/2023
Adoption Fee: $50
Midas needs a Guardian Angel, he has Stage 2 renal disease and requires fluids twice weekly. He also needs daily oral medication and special diet food. He is shy as first and will need a little patience while he gets comfortable with you. He loves to be brushed and is quite playful and affectionate once he gets to know you. He enjoys the company of other cats and can be talkative. If you can be his forever guardian angel, stop in SPCA Florida and ask to meet handsome Midas!