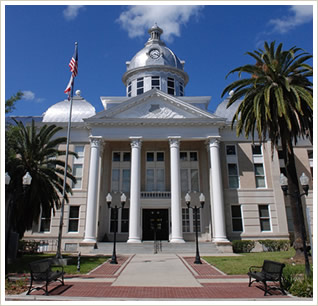 Welcome to the Polk County History Center, home to the historical museum and genealogical library.
The Polk County Historical Museum opened its doors on September 19, 1998, in the Old Polk County Courthouse, located in downtown Bartow. The Museum serves the Polk County Community through special events, volunteer opportunities, and educational programs. The Museum's exhibits and programs continue to grow and change as new information and artifacts become available.
 Polk County History Center-Museum Information & Fees
Hours of Operation
Tuesday – Friday 9:00 A.M. to 5:00 P.M.
Saturday 9:00 A.M. – 3:00 P.M.
Closed Sundays & Mondays
Admission Fee
Admission to the museum is FREE to the public. Check here for new exhibits!
Reoccurring Programs

Festival of Wreaths:
The Polk County History Center's annual Festival of Wreaths will open about the middle of  November and will be on display for about a month.
Free Lunch and Learn speaker series at the Historical Museum:
The Polk County Historical Museum is introducing a "Lunch n' Learn" series.
Guests are invited to bring lunch up to the 1926 courtroom and listen to a guest speaker on the third Tuesday every month. Lectures will begin at 12:15 and last 45 – 60 minutes. The program is free, just bring your own lunch!

Education / School Program
The Historical Museum features a guided tour through the museum's exhibits. The program takes students through museum exhibits in a team building exercise that will uncover information about Polk County and Florida history.

Rental Information
The Historical Museum is an extraordinary venue for hosting group functions such as; conferences, weddings, receptions, or meetings. For more information about this service please call the Museum.

Volunteer Opportunities
Get involved with the museum by volunteering. The museum currently has several opportunities available to assist with organizing collections and greeting visitors.
Exhibits
The Polk County Historical Museum collection includes natural and cultural objects related to Polk County and the greater Central Florida area that represent our history from pre-Columbian to present day eras. For more information about the exhibitions or to view the virtual tour, please see the Museum Exhibitions page. For a list of special events and temporary exhibits at the museum click here Museum Exhibitions
Polk County History Center's Gift Shop
The Historical Museum Gift Shop offers a wide variety of books, specialty food items, and souvenirs. Some of these items can be ordered online. Call the museum office to inquire about item availability.
---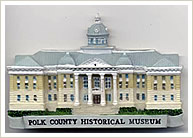 Have Questions?
For more information about the Polk County Historical Museum please contact us by phone (863) 534-4386 or toll free 1-800-780-5346 ext.4386; or fax (863) 534-4387. The Museum hours are Tuesday-Friday between 9:00 A.M. to 5:00 P.M; or Saturday 9:00 A.M. to 3:00 P.M. (excluding holidays). Also, please check out the official Polk County History Center site.