Date: July 24, 2021, 6:00 p.m.
Where:  Idlewood Venue
150 S. Idlewood Avenue, Bartow, FL 33830
Admission Price: $85.00 (individual tickets)
Projected Attendance: 300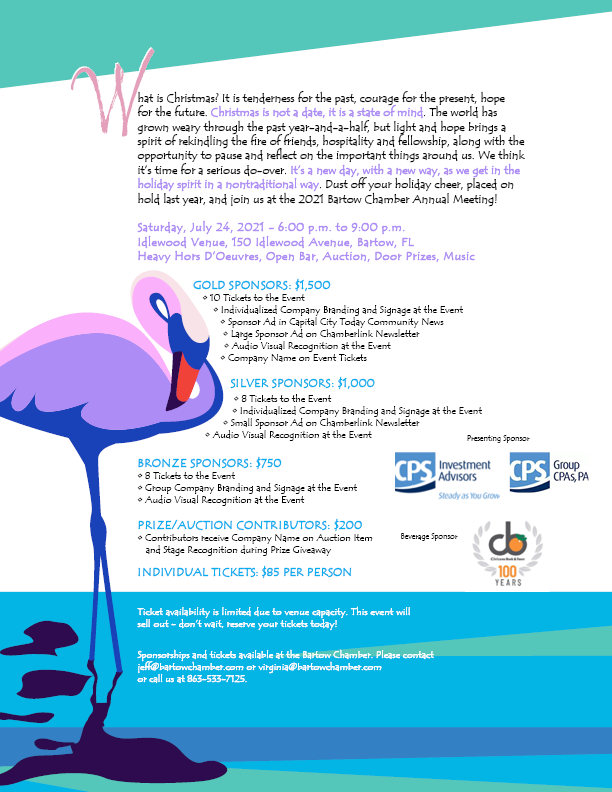 Christmas in July!
The Annual Meeting is the Chamber's premier event. Usually held in January, it is the business community's largest social gathering/business meeting. This event honors the outgoing Chamber Board President, incoming President, and outgoing and incoming Board Members.  Ticket auctions are held throughout the evening, with heavy hors d'oeuvres, a great band and open bar included. This event takes place at Idlewood Venue. Sponsor format this year will be tickets for your guests, no designated tables, and lots of fun!
Interested in becoming a sponsor? Email us here! (Or call, 863-533-7125).
Presenting Sponsor
$2,500
(exclusive: CPS Group CPAs,PA)
16 tickets to the event
Individualized company branding and signage at the event
Sponsor ad in Capital City Today community news
Large sponsor ad on Chamberlink newsletter as presenter
Audio-visual recognition at the event
Company name on event tickets
Beverage Sponsor
$2,000
(exclusive: Citizens Bank & Trust)
16 tickets to the event
Individualized company branding and signage at the event
Sponsor ad in Capital City Today community news
Sponsor ad in Chamberlink newsletter
Audio-visual recognition at the event
Company name on event tickets
10 tickets to the event
Individualized company branding and signage at the event
Sponsor ad in Capital City Today community news
Sponsor ad on Chamberlink newsletter
Audio-visual recognition at the event
Company name on tickets
8 tickets to the event
Individualized company branding and signage at the event
Small sponsor ad on Chamberlink newsletter
Audio-visual recognition at the event
8 tickets to the event
Group company branding and signage at the event
Audio-visual recognition at the event
Prize/Auction Contributor
Contributors receive company name on auction item and stage recognition during prize giveaway