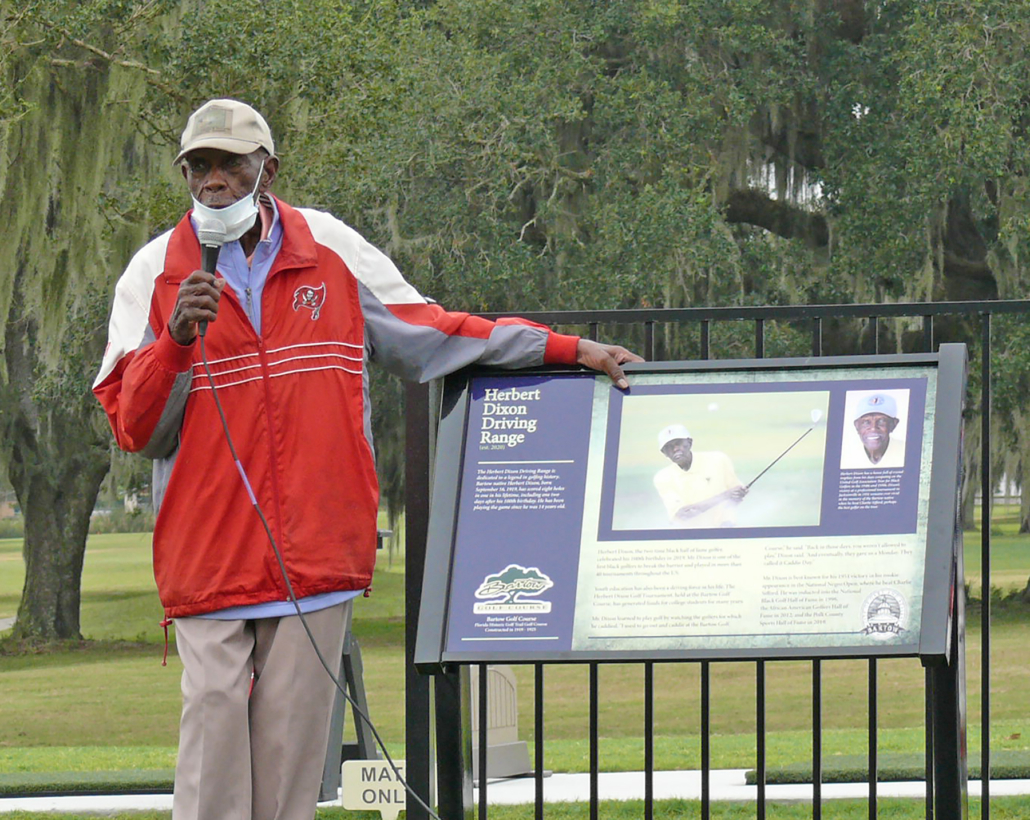 Driving Range Named For 3-Time Hall of Famer
The Bartow Golf Course Driving Range is now the Herbert Dixon Driving Range following a sign unveiling and Greater Bartow Chamber of Commerce ribbon-cutting on Dec. 5, 2020.
Mr. Dixon was unaware that the driving range would be named after him, and following the unveiling, he spoke to the crowd of 75 that his 101 years have taught him that sometimes you have to yield in life; and after having a hard road to travel, it is important to live each day as it comes.
The new signage contains a short bio of Mr. Dixon's life:
"Herbert Dixon, the two-time black hall of fame golfer, celebrated his 100th birthday in 2019. Mr. Dixon is one of the first black golfers to break the barrier and played in more than 40 tournaments throughout the US.
"Youth education has also been a driving force in his life. The Herbert Dixon Golf Tournament, held at the Bartow Golf Course, has generated funds for college students for many years.
"Mr. Dixon learned to play golf by watching the golfers for which he caddied. 'I used to go out and caddie at the Bartow Golf Course,' he said. 'Back in those days, you weren't allowed to play,' Dixon said. 'And eventually, they gave us a Monday. They called it Caddie Day.'
"Mr. Dixon is best known for his 1951 victory in his rookie appearance in the National Negro Open, where he beat Charlie Sifford. He was inducted into the National Black Golf Hall of Fame in 1998, the African American Golfers Hall of Fame in 2012, and the Polk County Sports Hall of Fame in 2019."
Following the unveiling and ribbon-cutting ceremonies, Mr. Dixon hit the first official ball from the driving range. Golf Team students from Florida Southern College who had learned to play at Bartow Golf Course were also on hand to hit balls and give tips on the game.
Leisure Services Director Catherine Vorrasi credited the collaborative efforts of different city departments for creating a first class driving range for the golf course; and she credited City Manager George Long, who encouraged the project.
It is interesting to note that the Bartow Golf Course history itself began the very year that Mr. Dixon was born in 1919. Mr. Dixon has scored eight hole in ones in his lifetime, including one two days after his 100th birthday. He has been playing the game since he was 14 years old.
The City of Bartow Golf Course is on the Florida Historic Golf Trail. It is located at 190 Idlewood Avenue. For more information, call Chris Banks, 863-533-9183.