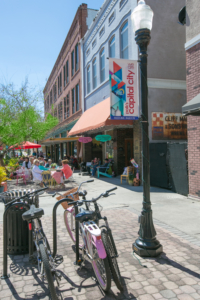 What's coming UP for DOWNTOWN Bartow!
Main Street Bartow staff and volunteers, along with local businesses, are already working on plans for special events in the fall and winter.
Pet services and vendors are planned for the Sept. 19. The third annual Bartoberfest on Oct. 18 will have something new: a pretzel eating contest for kids and adults. The Cookie Jar will have kids' activities, like cookie decorating.
Our first December Friday Fest will feature Sounds of the Season and real snow! We're looking for church choirs and school groups to sing. Contact Main Street Bartow at 863-519-0508 for information.
Last year's Chalk Walk was so popular and fabulous that it's returning on Oct. 5 and 6, and will be the venue for Main Street Bartow's annual meeting. Vendor applications are now available on the Bartow Chalk Walk Facebook page.
What is Bartow famous for in October? Well, it's Halloween and time for the annual Crickette Club Parade and Carnival. The parade goes from downtown to Mosaic Park. During the day downtown businesses and merchants will offer Trick or Treat goodies.
Returning Nov. 9 is the Fall Craft Fair and Honey Bee Festival in Downtown Bartow, always full of good things to see and eat.
Merchants and businesses are being asked to decorate for fall by Sept. 20, and for Christmas by Nov. 1. Yes, it's not too early to think about Thanksgiving and Christmas. Here's hoping it's cooler and less humid by then!
Fancy Flea brings back its Jingle Bell Market pop-up show featuring vintage Christmas, holiday shopping, décor, furniture, live music, and food, in Downtown Bartow on Saturday, Dec. 7, 9 a.m.-4 p.m. Santa plans to be there that morning from 9 to 11:15. Admission is free.
A quick trip in the Main Street time machine gave a hint of things to come at the seventh annual SyFy Bartow, set for Saturday, Feb. 15. This hugely popular event will have a Myths and Magic theme. Think wizards, mythical monsters, dragons, unicorns, anything your mythical mind can imagine. All types of fandom and costuming are welcome (must be suitable for a family-friendly event).
Anyone interested in being a vendor or sponsor is asked to email
SyfyBartow@gmail.com
. Vendor spaces go fast, so don't wait to make it a date.