Picture this: You're in an operating room and about to undergo a surgical procedure. Standing by your bedside is a robot with numerous mechanical arms that are equipped with a 3-D scope camera and a variety of surgical tools.
It might seem like a concept out of a science fiction novel, but it's actually one of the most exciting breakthroughs the healthcare industry has witnessed in recent times.
Just ask Dr. Anthony Zappia, a board-certified surgeon who has performed well over 500 procedures utilizing the technology, a statistic that distinguishes him as the most experienced practitioner of robotic surgery in our community and among the top five in the entire Tampa Bay region.
"This technology is a significant game changer for advancing surgical technique and improving patient outcomes," Dr. Zappia says. "Procedures that normally required large or multiple incisions can now be performed through an opening that's the diameter of a dime."
This minimally invasive approach not only results in smaller incisions, but virtually no scarring and a faster recovery time as well.
The surgeon remains in complete control of the robot's actions at all times, and navigates each step of the surgery from a nearby console while observing the procedure in high resolution. Guided by the surgeon's movements, the robotic system performs with pinpoint precision.
Dr. Zappia utilizes this technology to perform a host of procedures, including:
Hiatal, Inguinal and Ventral Hernia Repair – Hernias affect a large number of Americans, and some cases can result in severe complications if left untreated. For years, patients have feared the highly invasive incisions and slow periods of recovery associated with the traditional surgical solutions for hernia repair. Robotic techniques eliminate these drawbacks with smaller incisions and speedier healing process.
Single Site Gall Bladder Removal – Patients who experience frequent gallstones or other issues related to the gallbladder often suffer from great discomfort and a compromised quality of life. Gallbladder removal surgery, otherwise known as a cholecystectomy, can eliminate these issues and provide much needed relief.   Zappia performs this procedure through a single tiny incision around the navel. Patients have reported little to no pain following the procedure, and a fast return to their normal daily activities.
Nissen Fundoplication – If your acid reflux cannot be contained through medication or lifestyle changes alone, then your doctor might recommend you undergo surgery. Robotic surgery can correct your condition by repairing the passageway from your esophagus to your stomach through small dime-sized incisions. This represents a significant improvement over traditional laparoscopic techniques.
Colon Surgery – The da Vinci® surgical robot has also revolutionized both benign and malignant colorectal surgery. This includes diverticular disease, IBD, rectal prolapse and cancers. For qualified patients, Dr. Zappia can remove the diseased region and reattach both ends of the healthy organ tissue using the smallest of incisions.
Splenectomy – Patients with hematologic disorders or masses of the spleen may require removal of this organ. This can be done safely with robotic assistance through small incisions.
"The ability to perform these complex procedures in a minimally invasive manner has proven transformative," Dr. Zappia observes. "It's remarkable to witness patients as they enjoy a much higher quality of life without the painful and tedious recoveries that have historically resulted from these surgeries."
Dr. Zappia performs a variety of general surgeries without the use of the robot as well, and his minimally invasive approach to these procedures has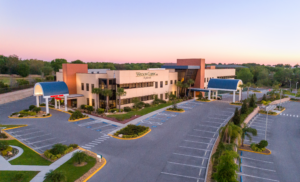 proven equally satisfying to his patients.  The procedures include but are not limited to: Thyroidectomy, Anal Surgery, Skin Lesion/Cyst Excision, Pilonidal Cystectomy, Portacath Placement, Laparoscopic Appendectomy, Lymph Node Biopsy as well as Pediatric Hernia Repair.
Dr. Zappia has amassed many years of experience in providing the latest surgical techniques with deeply personalized and attentive plans of treatment.  He received his medical degree from Indiana University School of Medicine in Indianapolis, IN, MD, and completed his general surgery residency at the Henry Ford Hospital in Detroit, MI. He is board-certified by the American Board of Surgery.
"I am proud to be a member of the Watson Clinic family, and to continue their tradition of offering the most progressive medical technologies and treatments to patients in our community," he says.
While Dr. Zappia counsels patients from his office at the new Watson Clinic Highlands facility at 2300 E County Rd. 540A in south Lakeland, he performs his surgical procedures exclusively from Bartow Regional Medical Center at 2200 Osprey Blvd. in Bartow.
Appointments with Dr. Zappia can be scheduled by calling 863-680-7486 or visiting www.WatsonClinic.com/Zappia.