Date:

Saturday, March 4, 2023


Where:

Polk County History Center (Historic Court House)


Time:

Saturday 10:00 am-4:00 pm


Admission Price:

Free Community Event

The history of quilting can be traced back at least to medieval times. There are many early examples of medieval quilts from Europe, India and the Far East that have survived even today. The word 'quilt' – linked to the Latin word 'culcita', meaning a bolster or cushion – seems to have first been used in England in the 13th century.
Regardless of the colors used, quilts reflect the passion and love that a quilter has for life itself. The colors in quilts are as diverse as people's beliefs. The colors unite to form a harmonious whole in patterns symbolic of life and death.
The Bloomin' Arts Committee and is privileged to present the 2023 Bloomin' Arts Quilt Show.
A non-juried event, the Frost Law Firm, PA Bloomin' Arts Festival Quilt Show will be held on the second floor of the Polk County History Center, in the historic 1926 Courtroom. The one-day viewing of the quilts will be held on Saturday, March 4, from 10:00 a.m. to 4:00 p.m. Be sure to stop by and visit these beautiful quilts and see the passion and love for life exhibited by each artist.
Attending the Bloomin' Quilt Show is free to everyone.
Quilt at left –
2021 People's Choice Award Winner:
Diamond Wedding Ring
Owned and Pieced by Dee Herndon
Quilted by Lisa Dismore at Inspire Quilting Plant City
The Frost Law Firm, P.A. Bloomin' Arts Festival is a juried Fine Arts festival and is Bartow's premier event of the year.  It is held on the first full weekend each March.  Originally called the Spring Art Festival, it has evolved into one of the top festivals in Central Florida and features artists from all across the country.
The festival is a collaboration of the Bartow Art Guild, Bartow Chamber of Commerce, and Main Street Bartow.  Event Co-Chairs, Michell Githens and Lara Fredericksen, coordinate an all volunteer staff and workers consisting of members from all areas of the community.  These are dedicated, hard working volunteers and truly the backbone of the event.
The festival takes place along several blocks of beautiful, historic downtown Bartow and local businesses and restaurants are open to welcome festival goers.
FOLLOW THE BARTOW ART GUILD ON FACEBOOK FOR INFO AND PHOTOS!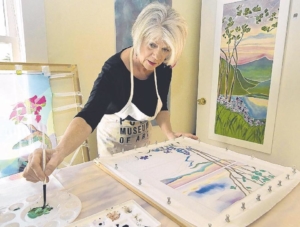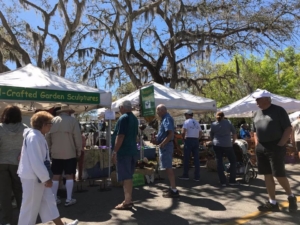 Click here to add your own text