Date: Saturday, March 6, 2021
Where: Downtown Bartow
Time: Saturday 9:00 am-3:00 pm; awards at 2:00 p.m.
Admission Price: Free Community Event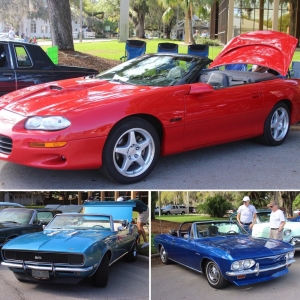 Join us for the Historic Bartow's 50th Annual Bloomin' Arts Festival Car Show, sponsored by Kelley Buick GMC in beautiful Downtown Bartow on Saturday, March 6, 2021.
To enter a car for the show and register, cost is $15 day of show; no pre-registration.  Dash plaques will be awarded to the first 100 registered. Those registered are also eligible for a 50/50 drawing and may win trophies (37 total awarded). Car categories include: 1985 and older, 1986 to 2006, and 2007-present. A Best of Show and Club participation trophies will also be awarded.
Entertainment will be provided by DJ SLS Entertainment.
This show benefits Bartow First Assembly of God and the Rohr Home of Bartow.
For more information, contact Tony Murray at 863-640-2945.
Attending the Bloomin' Car Show, held annually at the Frost Law Firm, PA Bartow Bloomin' Arts Festival, is free to everyone.
The Frost Law Firm, P.A. Bloomin' Arts Festival is a juried Fine Arts festival and is Bartow's premier event of the year.  It is held on the first full weekend each March.  Originally called the Spring Art Festival, it has evolved into one of the top festivals in Central Florida and features artists from all across the country.
The festival is a collaboration of the Bartow Art Guild, Bartow Chamber of Commerce, and Main Street Bartow.  Event Co-Chairs, Michell Githens and Lara Fredericksen, coordinate an all volunteer staff and workers consisting of members from all areas of the community.  These are dedicated, hard working volunteers and truly the backbone of the event.
The festival takes place along several blocks of beautiful, historic downtown Bartow and local businesses and restaurants are open to welcome festival goers.
FOLLOW THE BARTOW ART GUILD ON FACEBOOK FOR INFO AND PHOTOS!
The festival events include:
More than 80 artists
Bloomin' Car Show (Saturday Only)
Quilt show
Bloomin' Bike Ride
Huge Kids Activities Tent
Entertainment On the Green
Food Trucks
Festival sponsored by Frost Law Firm, PA
and Central Florida Visitors and Convention Bureau
and Sun Central Media Group
Hosted by: Bartow Art Guild, City of Bartow, Greater Bartow Chamber of Commerce and Main Street Bartow, Inc.
Also by: Bartow Ford, Centerstate Bank, Mosaic, Polk County History Center. Patron: Clear Springs.
Car Show Sponsored by Kelley Buick GMC