Options for Women Pregnancy Help Clinic is a non-profit medical clinic that serves patients in three locations in Lakeland and Bartow. Their mission is to erase the need for abortion through effectively serving pregnant, at-risk women by transforming their fear into confidence.
Adam Putnam said it well, "This is about saving lives, changing lives. When we are giving these girls, these women, the option to keep their baby we are saving two lives. It's more than just babies, it's about saving families."
HOW IT ALL BEGAN…
The first pregnancy help center was founded in 1978 by Pat Buckler. Pat took what she had; $40.00, her faith, and a heart full of compassion for women with an unplanned pregnancy and opened the first pregnancy center in Polk County. By 1998, Options for Women, then known as the Pregnancy Help Center of Lakeland, was working to meet the needs of women facing unplanned pregnancies in the Lakeland area from a small home on Hickory Street near Downtown Lakeland.
n 2003, the Board of Directors realized the real difference that could be made by shifting from a pregnancy center to a pregnancy medical clinic that could offer the important services a woman needs during the beginning months of a pregnancy, free of charge. In January 2004, Focus on the Family provided a grant for an ultrasound machine, paving the way for the medical clinic to begin serving patients.
To reflect the changes occurring in the clinic, the name was officially changed to Options for Women Pregnancy Help Clinic in 2010.
EXPANSION
Most recently, on January 30, 2018, Options for Women opened its doors in Bartow so they could better serve women who live on the eastern side of the county.
"Through a blessed series of events we have found ourselves here in Bartow and the community could not have been more welcoming. I first reached out to Rob Kincart about the Options for Women mission and he put me in touch with Brian Hinton who then encouraged me to meet with Rusty Music the Executive Director of the Church Service Center. The rest is history!" said Marilyn Paul, Executive Director of Options for Women. "Every business and every Church we have visited has welcomed us with open arms, support, and a desire to partner."
Paul said, "Patients come to us because they have either taken a home pregnancy test that showed a positive result, or they believe they are pregnant. They are often scared and confused, and oftentimes, finances are a very real concern. All of the services we provide are free of charge. When you are facing an unplanned pregnancy and finances are an issue, it is very easy to assume abortion may be your only option. At Options for Women, not only do we provide women with pregnancy tests and ultrasounds, we also take the time to talk to them about how they are feeling about the pregnancy, their concerns, their hopes and fears. We also provide them with lists of resources available in the community – Polk County is full of resources to help, and we want to empower women with that knowledge."
SERVICES FOR PREGNANCY
"We know that for many women facing unplanned pregnancies, there are a lot of decisions to make and it can be a scary and confusing time," says Paul. "We hope that by opening this satellite clinic in Bartow, more women will have access to the important free services we provide."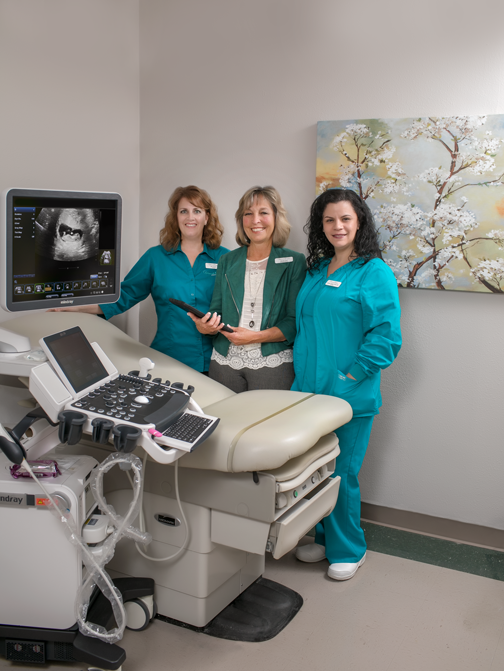 Free services provided to pregnant patients include pregnancy tests, ultrasounds, and STD testing for Chlamydia and Gonorrhea for every patient served. A professional pregnancy test, paired with an ultrasound, read by a physician, can confirm a pregnancy and confirm that a pregnancy is viable.
Ultrasounds not only confirm a viable pregnancy but also confirm how far along the patient may be in her pregnancy. This is important for a woman who may be considering abortion because how far along she is in her pregnancy will determine what type of abortion she may have. While Options for Women does not refer for or perform abortions, patients are counseled on abortion and the nurses and patient advocates want to share all pertinent information with the patients.
Sexually transmitted disease testing is another crucial component to what Options for Women does. Untreated STDs can cause serious issues to a woman's reproductive health, as well as the health of the unborn child if the patient carries to term. It is important for women to know whether they may have an STD and to receive treatment for it prior to an abortion or delivery.
NOT JUST FOR PREGNANCY
In addition to the services provided to pregnant patients, Options for Women also offers free STD testing for the community, and a free limited women's wellness program. Through the wellness program, any woman, who is a US citizen and over the age of 18 who is without insurance or Medicaid may be eligible for a voucher for a free visit with a local OB/GYN. Through a free screening, and if found eligible, a patient can see an OB/GYN to receive a pap smear, lab testing, breast exam, flu shot and tetanus shot, all free of charge. Additional offerings include Surrendering the Secret which is a free 8 week study that helps women hurting from abortion find the path to healing, and Steps to Sexual Integrity which is offered to women who are interested in taking back control of their sexuality and creating a groundwork from which they can make better, healthier decisions.
When asked how she would sum up Options for Women in one sentence, Paul said, "Transforming fear into confidence. We turn our patients fear into confidence and hope for the future."
In the just two weeks since opening their Bartow location on January 30, 2018, Options for Women has seen 11 scheduled patients and provided the opportunity to change 11 (or more) lives!
Speaking about Bartow and Options for Women, Adam Putnam put it simply, "This is a community that is going to lift them up, love them and provide what they need to make the hard decisions they face." Welcome to Bartow!