Date: March 5, 2022
Where: Front Page Brewing Company, 190 S. Florida Avenue, Bartow
Time: Saturday 8:00 a.m. start; registration at 7:00 a.m.
Hosted by: Main Street Bartow, Inc. Bartow Cycling Events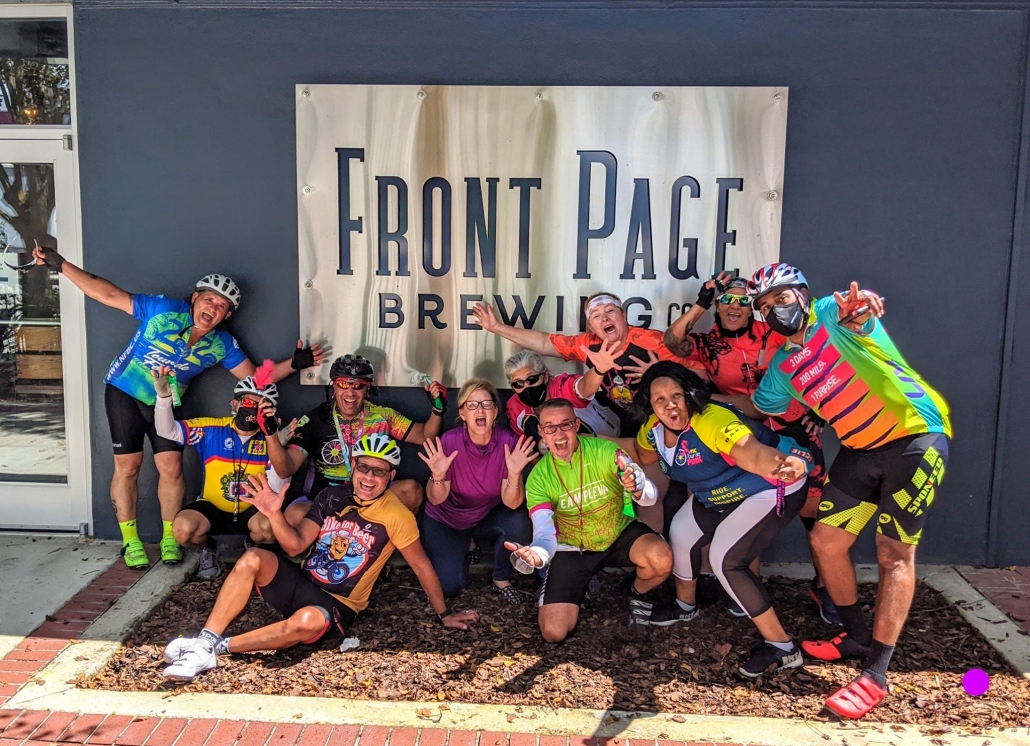 Main Street Bartow, Inc. & Bartow Cycling Events are gearing up for the Bloomin' Bike Ride on March 5th.
Road & Trail Bicycles continues to be the event's Cycling sponsor and offers expertise and supplies for all cyclists participating.
Front Page Brewing Company, located at 190 S. Florida Avenue, Bartow, is the starting location. Registration opens at 7:00 a.m. and the ride takes off at 8:00 a.m.
As the largest organized road tour in Polk County, this is an on-road cycling tour along the scenic back roads of southern Polk County. Gently rolling roads take cyclists across the Peace River Basin through expansive citrus groves and around the old Florida backwoods.
This is a cycling event that provides great cycling support via fully stocked rest stops with friendly volunteers, Sheriff Deputy escort, trailing vehicles for assistance and aid, course photographer and great food provided by some of Bartow's finest restaurants.
The Bloomin' Bike Ride is the only ride that gives the opportunity to a participating cyclist to be featured on the following year's event jersey. This year's winner is avid cyclist, Mike Richardson, who was photographed last year for a logo designed by LillyCat Design Studio. Richardson's photo became the ride logo on all printed media and the ride shirt for 2022.
Main Street Bartow, Inc. and Bartow Cycling Events won a Merit Award for an Outstanding Florida Main Street Fundraising Development Effort presented to to the two groups at the Florida Main Street Secretary of State Awards Dinner in August, 2017 for the Bloomin' Bike Ride and Tour de Tow cycling events in Bartow.
This year's ride will feature a 65- and 35-mile road tour and a 17-mile family fun ride.
Registration is on (Bartow Cycling Events on Facebook) or you can request a registration form by emailing Lillycat36@aol.com or register the day of the ride.
Wearing masks and following social distancing protocols are requested.
The Frost Law Firm, P.A. Bloomin' Arts Festival is a juried Fine Arts festival and is Bartow's premier event of the year.  It is held on the first full weekend each March.  Originally called the Spring Art Festival, it has evolved into one of the top festivals in Central Florida and features artists from all across the country.
The festival is a collaboration of the Bartow Art Guild, Bartow Chamber of Commerce, and Main Street Bartow.  Event Co-Chairs, Michell Githens and Lara Fredericksen, coordinate an all volunteer staff and workers consisting of members from all areas of the community.  These are dedicated, hard working volunteers and truly the backbone of the event.
The festival takes place along several blocks of beautiful, historic downtown Bartow and local businesses and restaurants are open to welcome festival goers.
FOLLOW THE BARTOW ART GUILD ON FACEBOOK FOR INFO AND PHOTOS!
The festival events include:
More than 80 artists
Food Trucks Sponsored by Citizens Bank & Trust
Festival sponsored by Frost Law Firm, PA
Children's Art Tent sponsored by Mosaic
Saturday Car Show sponsored by Kelley Buick GMC
Student Art Exhibit sponsored by SouthState Bank
Entertainment sponsored by Bartow Ford
Food Trucks sponsored by Citizens Bank & Trust
Media Sponsors: DR Media & Investments, LLC
Patrons: Clear Springs Land Co., Michell Githens State Farm and the Polk County History Center.
HOSTED BY BARTOW ART GUILD, GREATER BARTOW CHAMBER OF COMMERCE, CITY OF BARTOW, MAIN STREET BARTOW